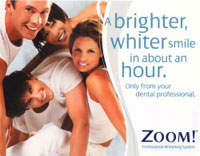 Here at Williams Landing Dental Clinic we use the latest technology and the #1 in-chair whitening system: Zoom Whitening
How long does it take to whiten my teeth?
Zoom teeth whitening is done in the dental chair. It usually takes about 1 hour.
How does it work?
Your whitening procedure will be applied and monitored by a dentist throughout the whole appointment, not a nurse or hygienist as in some other clinics. The whitening gel (hydrogen peroxide) will quickly break down the staining on your tooth enamel once activated by Zoom's specialised light.
For most healthy teeth, there should be no long lasting side effects.
Only tooth enamel will be whitened during this process; any fillings, crowns or veneers will remain the same colour.
Servicing Surrounding Suburbs
We offer our Tooth Whitening services to surrounding suburbs Point Cook, Truganina, Tarneit, Laverton and Hoppers Crossing.